Museo Nazionale Dell'Automobile Di Torino (National Automobile Museum of Turin, Italy) - September 2014 - Part 1
After a week in Paris in September 2014, my wife and I boarded a high-speed train for Torino (the Italian form for Turin) to spend 5 weeks exploring the land of the red-blooded sportscars. Our starting point was the northern industrial city of Turin, the home of Fiat but it's also the home of a very fine car museum which incidentally is located very near the Fiat factory. Also billed as the National Automobile Museum , this modern innovative building tells the story and the evolution of the motor car, as well as the social themes linked to it. The museum has a collection of almost 200 cars among eighty automobile brands representing eight countries.
Florentia 10HP (1903) - Italy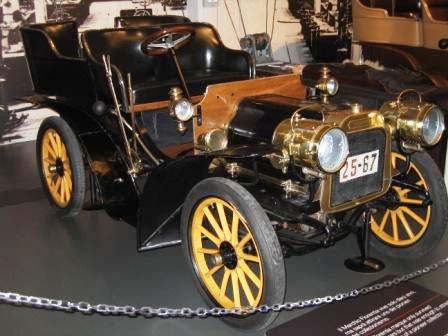 This unique 10HP with its "Phaeton" coachwork (i.e. open automobile without weather protection) is the only surviving example of a model made by Florentia, a Florence factory active from 1903 to 1913 that began by producing its own cars before manufacturing under licence from the French company Rochet Schneider.
Engine: 2-cylinder
Displacement: 7690 cc
Max. Power: 15 HP at 1200 rpm
Speed: 55 km/h
Weight: 750 kg
Darracq 9.5 HP (1902) - France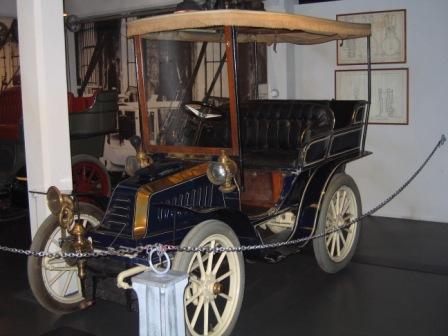 Automobiles Darracq S.A. was a French motor vehicle manufacturer founded in 1896 by Alexandre Darracq and survived as a marque until 1935. In 1900 the company produced its first vehicle with an internal combustion engine and by 1903 it had four models to offer to the public. The 9.5 had a single cylinder front engine and a three speed gearbox. Note the canopy with with its let-down side and rear curtains, the generous windscreen and the drooping bonnet typical of French cars.
Engine: 1 cylinder
Displacement: 1281 cc
Max Power: 9 HP at 1200 rpm
Speed: 60 km/h
Weight: 600 kg
Itala 35/45 HP (Peking - Paris) 1907 - Italy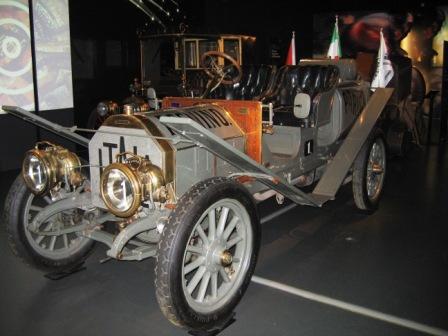 This is the car in which Prince Scipione Borghese with Ettore Guizzardi (mechanic) and Luigi Barbini (correspondent) won the 1907 Peking to Paris race in 60 days. It arrived a full twenty days ahead of the second placed car after overcoming all kinds of natural hazards and obstacles along the 16,000 kilometre route. The Itala was subsequently known as the Peking - Paris type.
Engine: 4 cylinder
Displacement:7433 cc
Max Power: 45 HP at 1250 rpm
Speed: 95 km/h
Weight: 1370 kg
Delage AB-8 (1913) - France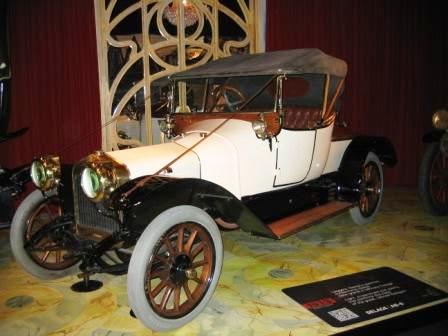 Founded by Louis Delage in 1905, the French company's touring and racing cars were among the finest Europe had to offer until it was acquired by Delahaye in 1935.
Engine: 4 cylinder
Displacement: 2121 cc
Max Power: 14 BHP at 1200 rpm
Max speed: 70 km/h
Weight: 640 kg (chassis)
Diatto 30 (1925) - Italy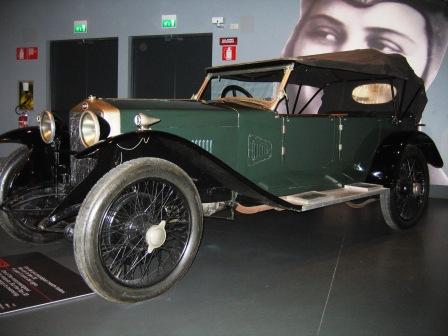 Founded in Turin in 1905 by Vittorio and Pietro Diatto, Diatto's up and down history was punctuated by the production of very popular cars which found considerable sporting success. This model 30 was one of the last to leave the factory, Its outstanding specification included a powerful 2-litre engine with the overhead valve timing system Diatto had adopted in 1919. A Diatto 30 managed to finish 11th at the 1925 Le Mans endurance race. Diatto ceased production in 1929.
Engine: 4 cylinder
Displacement: 1996 cc
Max Power: 54 bhp at 3000 rpm
Max Speed: 115 km/h
Weight: 850 kg (chassis)
Mercedes Benz 500K (1936) - Germany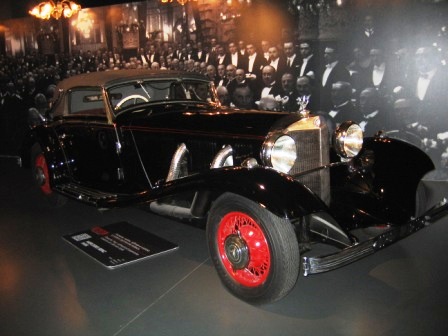 A luxury sports car powered by a straight-eight engine supecharged through a positive displacement blower engaged from the driver's seat, with all-independent suspension and very high performance ratings, the 500K was built at the Benz works in Mannheim. It was built in very small numbers and in various versions; saloon, torpedo, coupe, cabriolet and roadster and is an excellent example of pre-war German automotive engineering.
Engine: 8 cylinder
Displacement: 5000 cc
Max Power: 180 hp at 3500 rpm
Max Speed: 170 km/h
Weight: 2235 kg.
Cisitalia 202 (1948) - Italy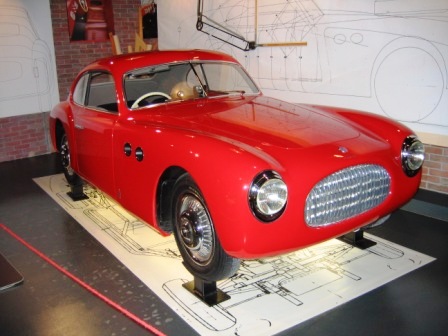 Cisitalia (short for Compagnia Industriale Sportiva Italiana) was founded just after World War 2 by Piero Dusio, a Turinese entrepreneur, to manufacture GT and racing cars. The firm's first product, the little single-seater D46 appeared in 1946. It was almost immediately followed by the 202 sports saloon with its tubular steel chassis and bodywork by Pininfarina that looked ahead to the styles of the future. A striking feature for its day was the horizontal radiator grille and the bonnet set below the mudguards with their builr-in headlights. There is another 202 in the New York Museum of Modern Art, where it is described as "one of the world's six most beautiful cars".
Engine: 4 cylinder
Displacement: 1090 cc
Max Power: 50 bhp at 5500 rpm
Max Speed: 155 km/h
Weight: 880 kg.
Fiat Turbina (1954) - Italy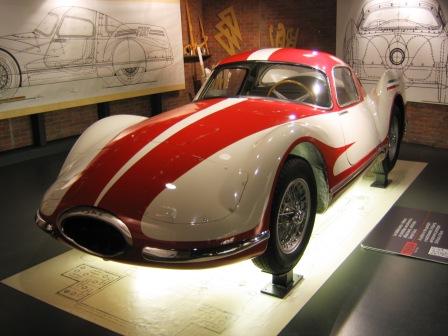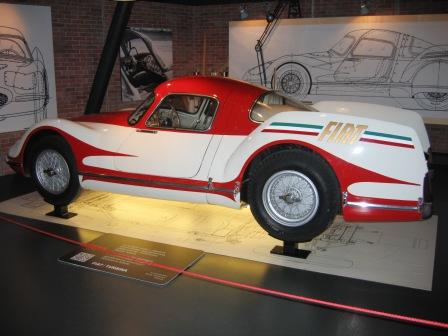 An experimental gas-turbine engined prototype present by Fiat in April 1954. Propulsion was provided by a two stage centrifugal blower coupled to a two stage turbine and a driving turbine linked to a geared reduction unit to transmit the movement to the wheels. Model tests in the wind tunnel demonstrated the excellent streamlining of the saloon's two-seater bodywork, in fact the Turbina held the record for the lowest drag coefficient on an automobile (0.14) for 30 years. The concept was eventually shelved due to high fuel usage and problems with overheating.
Engine: Gas tubine
Max Power: 300 hp at 22,000 rpm
Max Speed: 250 km/h
Alfa Romeo RLSS (1926) - Italy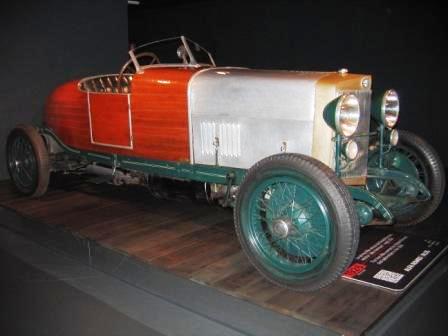 This model was produced between 1925 and 1927 for international customers looking for top performance. It was powered by a straight-six engine and custom built bodies were mounted on its standard chassis. The example above is a "spider bateau", so called because the tail looks like an upside-down keel and has an aluminium bonnet and mahogany rear end.
Engine: 6 cylinders in line
Capacity: 2994 cc
Max Power: 83 bhp at 3600 rpm
Max Speed: 130 km/h
Temperino 8/10HP (1920) - Italy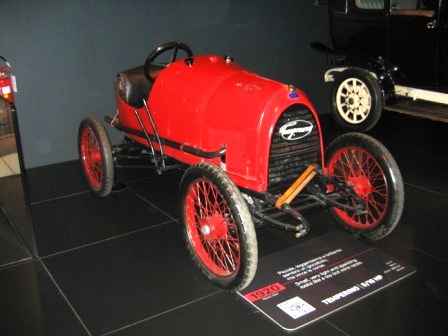 In 1919, three brothers Maurizio, Giacomo and Carlo Temperino set up a factory in Turin to build small, two-seater runabouts powered by a two-cylinder air cooled engine. The 8/10HP was the firm's first model and enjoyed a certain measure of success on account of tis easy handling and low running cost. A sports car version chalked up a number of race victories.
Engine: 2 cylinder
Capacity: 1010 cc
Max Power: 20 HP at 2800rpm
Max Speed: 65 km/h
Weight: 300kg
Tarf (1948) - Italy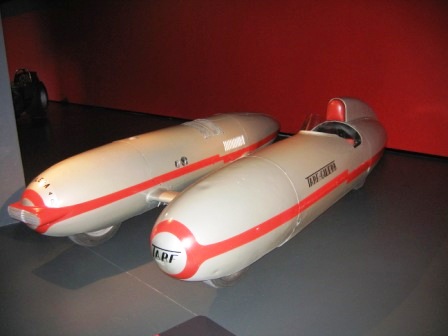 A record breaking vehicle with a twin torpedo body composed of two separate chassis in steel tubes and hanging coverings. The one on the left was occupied by the driver, the other housed the motorcycle engine and transmission and fuel tank. Other features included all-independent suspensions and chain transmission to the rear wheels. Designed and driven by Piero Taruffi, the Tarf was initially equipped with a Guzzi 500 two-cylinder engine and later with 350cc, 500c and 550cc four-cylinder engines. It set 22 international speed records between 1948 and 1957. The car displayed is fitted with a 350 cc four-stroke motorcycle engine.
Engine: Gilera 4-cylinder motorcycle engine
Capacity: 350 cc
Max Power: 40 hp at 11,500 rpm
Max Speed: 212 km/h
Weight: 300 kg
Lancia D24 (1953) - Italy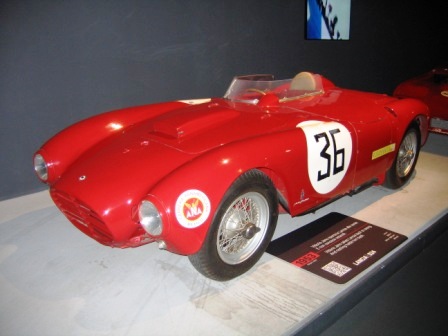 The last of a series built by Lancia for sports car competition, the D24 carried Manuel Fangio, Piero Taruffi and Eugenio Castellotti to the first three places in the 1953 Carrera Panamericana. The following year it won the Sicily Tour and the Targa Florio for Taruffi, the Mille Miglia for Alberto Ascari and the Oporto Grand Prix for Luigi Villoresi.
Engine: 6 cylinder
Capacity: 3284 cc
Max Output: 245 hp at 6500 rpm
Max Speed: 250 km/h
Weight: 740 kg
Alfa Romeo [Mod.] P2 (1930) - Italy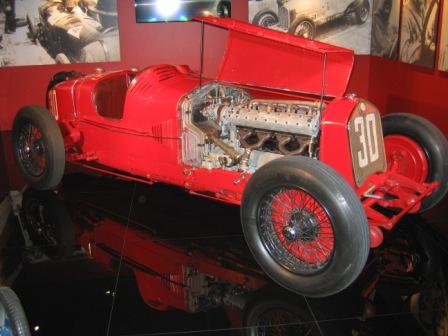 This modified version of the P2 racing car, designed by Vittorio Jano won its debut race in 1924. It was the first of a series of victories including the Italian Grand Prix with Ascari, two European Grand Prix with Campari and Ascari, the first World Manufacturers' Championship with Gastone Brilli-Peri in 1925, the Monza Grand Prix with Varzi. The P2 model is considered the grandsire of all Alfa Romeo's famous racing cars and only 2 of the original 6 survive and are displayed in two Italian museums (Alfa Museum in Arese and Turin Auto Museum).
Engine: Supercharged 8 cylinder
Capacity: 1987 cc
Max Power: 175 hp at 5500 rpm
Speed: 225 km/h
Weight: 780 kg
Mercedes Benz [Mod.] RW196 (1954) - Germany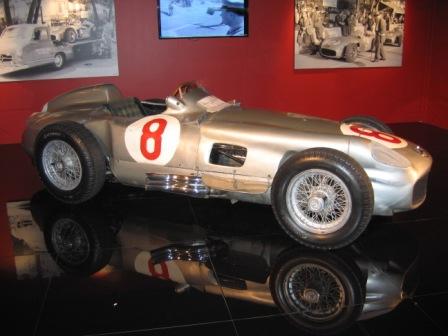 In its day, this was the most innovative Formula 1 car on account of its straight-eight motor equipped with positive-drive valve timing (i.e. without return springs), two plugs per cylinder and direct injection. The RW196 mounted two kinds of bodywork; conventional with uncovered wheels, and fully flaired for very high speed racing. This model's first victory coincided with its debut in the Grand Prix of France held at Rheims in 1954, when Manuel Fangio and Karl Kling came first and second. It also carried Fangio to the world title in the same year and the next.
Engine: 8 cylinder
Capacity: 2496 cc
Max Power: 290 hp at 8000 rpm
Max Speed: 290 km/h
Weight: 720 kg
Lancia D50 (1955) - Italy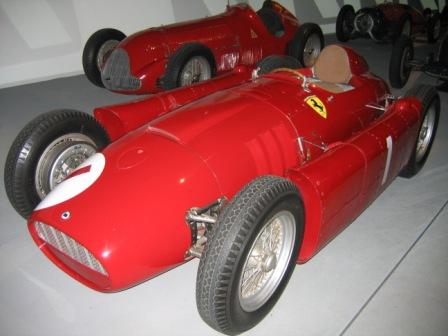 A Formula 1 single-seater designed by Vittorio Jano and presented towards the end of the racing season in 1954. The D50 introduced some sensationally new features: V8 at 90 degrees slanted from the car's long axis, 4 twin-bodied carburettors, two plugs per cylinder ignition, tubular framework chassis stiffened at the front by the cylinder block which also acted as a load bearer and twin fuel tanks fitted outside the bodywork. This model started the 1955 season by winning the Turin and Posillipo Grand Prix driven by Alberto Ascari. When Ascari lost his life just a few weeks later, Lancia decided to withdraw from racing and Ferrari took over its cars and equipment. The following year Lancia-Ferrari won the world title with Fangio at the wheel.
Engine: V8
Capacity: 2488 cc
Max Power: 260 hp at 8000 rpm
Max Speed: 280 km/h
Weight: 600 kg
Ferrari 312 T5 (1980) - Italy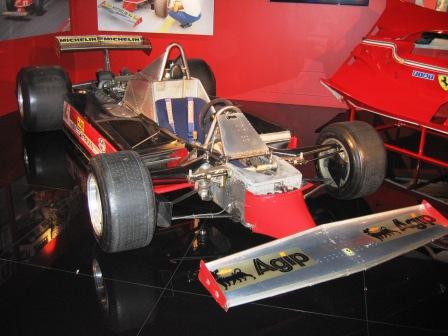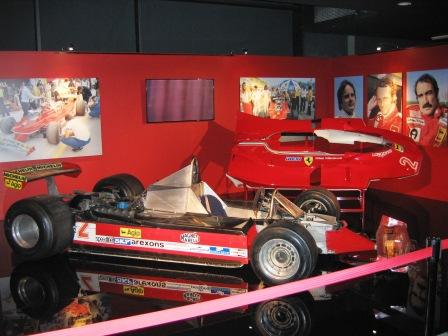 After Jody Scheckter became World Champion Driver in 1979, Ferrari unveiled the T5 version in 1980 while preparing the 126C fitted with a turbocharged power plant for the 1981 season. The number 2 car was driven by Gilles Villeneuve who was only able to finish 5th twice and 6th twice in 1980; Scheckter in the number 1 car could only score one 5th place all year and Ferrari finished a disappointing 10th in the Constructor's Championship. The 312 T5 is another example of Ferrari's series with the transverse transmission (hence the T) favoured by its current design philosophy. The body is fitted with skirts to achieve ground effects.
Engine: 12 cylinders at 180 degrees
Capacity: 2992 cc
Max Power: 515 bhp at 12,300 rpm
Max Speed: 290 km/h
Weight: 595 kg
Part 2 ot the Turino Auto Museum coming soon ...